Supporting Black Businesses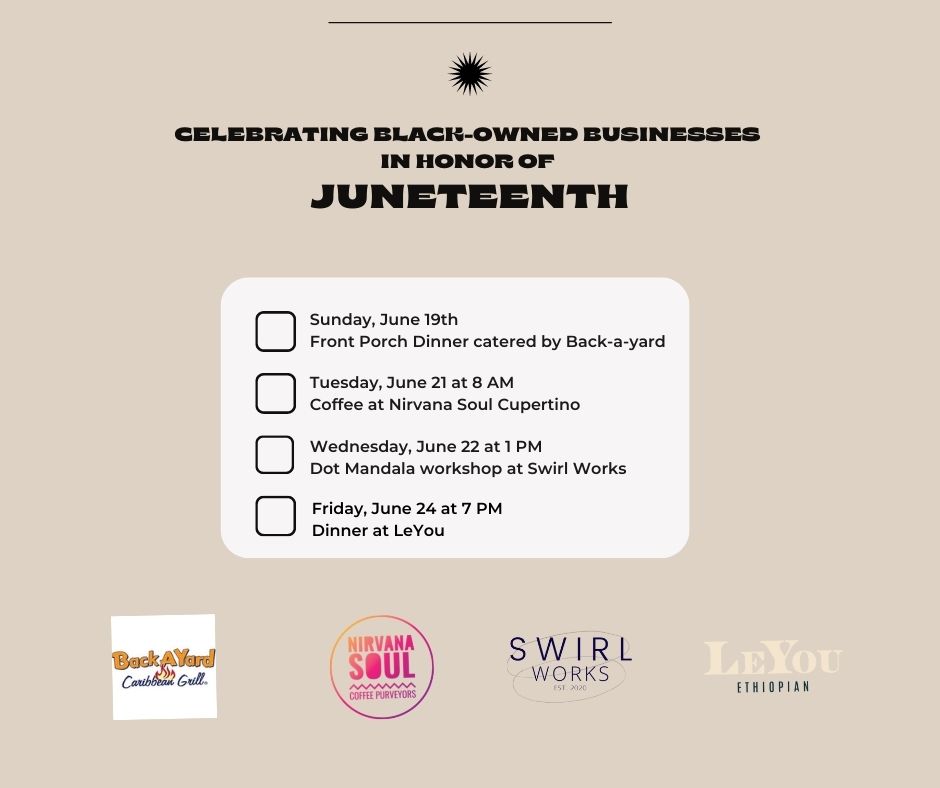 SUNDAY, JUNE 19 at 6:00 PM—Sam and Kristi's Driveway—96 Paul Avenue, Mountain View
We will gather to honor Juneteenth by reflecting on the history of the day, discussing how we can fully embrace and work toward liberation, and enjoying delicious food from black-owned Back-A-Yard.
*We are not anti-Father's Day, but there are very few places to "escape" from that day. We will not be observing Father's Day.*
TUESDAY, JUNE 21 at 8:00 AM—Nirvana Soul—19700 Vallco Parkway, Cupertino
Gather at Nirvana Soul's Cupertino location to caffeinate your morning and support a black-owned business. Nirvana Soul is one of the very best coffee shops around. We will gather, enjoy amazing coffee, and engage in meaningful connection.
WEDNESDAY, JUNE 22 at 1:00–Swirl Works—75 Arbor Road, Suite S, Menlo Park
In this workshop, you will discover what makes an artwork a Dot Mandala, how it brings out our inner artist and why painting a Dot Mandala can increase peace and relaxation in our daily lives.
This event is limited to SIX people. Please register to secure your spot!
FRIDAY, JUN 24 at 7:00 PM—LeYou—1100 N. First Street, Suite C, San Jose
Get to know people and eat amazing food while supporting this black-owned business.